The call for papers for the ACHA's 2017 Annual Conference is open. Read on to submit your proposal, and for details on submitting a joint ACHA-AHA or ACHA-ASCH panel. The submission deadline is April 15, 2016.
The Asa Griggs Candler Professor of Art History received the award at the ACHA's Annual Meeting in Atlanta.
The longtime Bellarmine University professor was honored at the 2016 Annual Meeting in Atlanta.
The Order of Cistercians of the Strict Observance, better known as the Trappists, were honored at the 2016 ACHA Annual Meeting with the Distinguished Service to Catholic Studies Award.
The deadline for submissions is April 30. The winner will be announced in the fall of 2016.
Prof. Walter Melion Department of Emory University, Rev. Clyde Crews of Bellarmine University, and the Trappist monks of the Our Lady of the Holy Spirit Monastery (Conyers, Ga.) are honored with awards.
Cummings, associate professor of American history at Notre Dame, will take office alongside two newly elected Executive Council members in 2016.
Catholic
Historical
Review
Members have full online access to the current issue and past CHR issues. Guests can preview articles from this issue.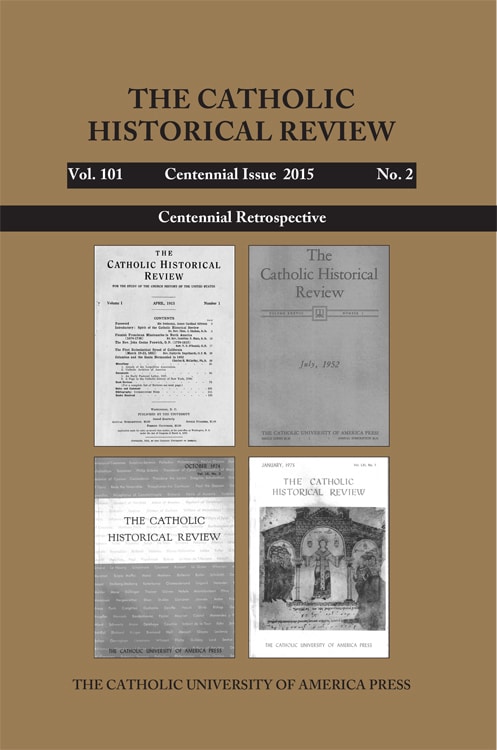 Centennial Issue #2
The
call for papers
for the
2017 Annual Meeting
is open. The regular deadline is March 15, 2015; earlier deadlines apply for joint-sponsored panels.
The 2017 conference will be held in Devner from Jan. 5-8, 2017
Spring conference
The ACHA will not be hosting a spring conference in 2016.
Of Interest
Conference
Conference on the Catholic Church in China to be held Oct. 9-11 in the Bay Area
Grant Center
The ACHA accepts applications for grants and announces recipients according to this schedule:
Applications due: Fall 2016 (date TBA)
Announcement: Fall 2016 (date TBA)
Applications due: March 15, 2016
Announcement: April 30, 2016
Applications due: March 15, 2016
Announcement: April 30, 2016